Bringing Compassion to Our Community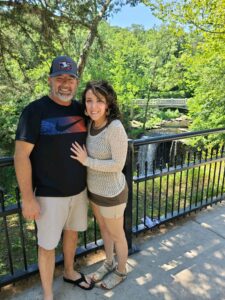 Bryan started Titan Moving in February 2014 with an idea for more than just a moving company in Wichita. His vision was to build a processed-based moving company that truly follows a personal service care plan for the client – from the first point of contact to the very last point of contact. He also wanted Titan to represent the Christian values of his faith in treating others the way you want to be treated. "Titan" in his vision means strength in all areas of service.
Bryan met Angela in 2015. She lived in Springfield, MO, and was in college at MSU pursuing her BS in Psychology. They began dating and Angela learned about the moving business through proximity. At the time, Titan was only a small building and a small lot with Bryan and the crew. Angela offered to work remotely to help Titan grow by assisting with scheduling and customer service calls. Titan began to grow to the point that it needed an official brick-and-mortar building to establish an office in Wichita, KS. Bryan and Angela got engaged and she relocated to Wichita to forge the new office.
Together, Titan has grown even more, creating new positions within the company and the need for a larger fleet of trucks. As a team, Bryan and Angela offer something a little different than other moving companies in the area – true compassion for customers. Together, the two offer a complimentary intertwining of both gender skill sets and perspectives when it comes to moving a home and a family. Bryan understands the logistics, brawn, and technique side for men during a move, while Angela offers the understanding of the nesting, nurturing, and organizational needs for women and children during a move.
Along this journey, they also both noticed a deep gap in the community for a moving service that is moved by compassion to help those in need. Their future goal is to build a non-profit side of Titan Moving dedicated to helping vets, widows, senior citizens, and victims of abuse.
We take pride in having grown a reputation as trusted movers over the years. Client experience is what drives us every day. We enjoy getting to be a part of every family's journey and having the opportunity to meet and develop lasting friendships and relationships. It's our goal to be a blessing to all we meet along our interwoven paths.
Titan Moving truly cares about fulfilling our mission as a locally owned and operated Christian company to our employees, our clients, and to our local community as well. We're proud to partner with local organizations to help those in need.